It's always exciting for us to see what we call practical innovation in action—companies leveraging existing and emerging technologies with their own unique skills and capabilities and doing the "next right thing" for their customers. And when it's all the product of a well-executed customer-centered design strategy—especially one we've been able to influence—it's particularly satisfying.
So it was exciting to see General Motors announce their next generation driver experience this month. The "Cadillac User Experience," or CUE for short, will appear on flagship Cadillac brand products beginning in 2012. With CUE, Cadillac integrates the car's infotainment systems with a truly modern user interface. Combining touch and haptic feedback, natural language voice interaction, proximity sensing and judicious use of buttons and controls, CUE enriches in-car information, communication, navigation, and entertainment, while at the same time simplifying the interaction and tailoring it to the driving experience.
CUE is revolutionary in the automobile industry, introducing a number of capabilities for the first time. The 8-inch capacitive touchscreen center stack display features multi-touch and haptic feedback. The display shows a simplified set of icons and information to minimize distraction during normal driving, but when the integrated proximity sensor detects a finger approaching it, richer information and controls are automatically shown. The 12-inch LCD cluster display is easily reconfigurable to match your driving style. Media from up to 10 connected devices and drives are aggregated and can be navigated and accessed as one library. The speech interface allows your emails and texts to be read to you—and for you to respond, without ever having to take your eyes off the road.
It is quite unlike anything yet seen in automotive interfaces—more akin to the iPad than a car. No doubt to underscore this break from the past, GM chose to announce CUE not at an automotive event, but at CTIA, the main wireless telecommunication industry conference.
Early reviews based on pre-production units has been overwhelmingly positive: "CUE has the potential to be a real game changer" (Motor Trend), "Smartphone and tablet manufacturers should take note—this car manufacturer just showed you how to do car mode" (Android Central), "…it could prove to be a huge improvement over the convoluted control knobs on German and Japanese luxury cars." (Forbes).
The design of CUE started with a joint InContext/GM exploration of the attitudes, values and behaviors of 32 drivers in four North American cities, with a focus on information, navigation, entertainment and communication. It's been particularly gratifying for us to see how much value GM places on the customer-centered philosophy that underlies CUE's design—even in the press release that accompanied the announcement:
"CUE development began in 2008 when Cadillac designers rode with 32 consumers for six months to study driver habits. Engineers and designers then used the data to develop CUE."
They even explicitly called out the Contextual Design models they used in their CTIA presentation: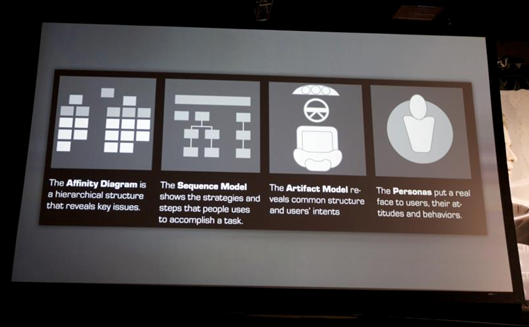 In addition to generating the core design concepts, the study also generated the ideas for some of the underlying technology as well—in a published paper describing the user research, GM notes:
"The Contextual Design effort described here provided significantly more innovation to our infotainment and telematics systems design than GM's previous user-centered design methods of relying on the collective experience and wisdom of the designers/engineers and conducting usability tests to incrementally improve a design. This project alone resulted in over 180 new design ideas, from which 33 patent submissions were presented for approval, 8 were approved for patent filing, and 3 had defensive publications written."
Of course, the initial customer data gathering and concept creation were only a small part of the huge effort that went into executing CUE. Still, driving innovation of this kind is what gets us all up in the morning and it's very satisfying to see front end research, ideation and requirements definition executed so well as part of a long term experience strategy.
From a new product development point of view, there is a larger and very important point that is illustrated with CUE: significant innovation can and does result from a well-executed, integrated development effort incorporating customer-centered design. A common criticism of user-centered design is that "asking people what they want" simply results in incremental innovation. And I think that is probably true—except that user-centered design isn't about asking people what they want. It's about understanding the intents, behaviors and attitudes of the people who will use your product, and then using your own design and domain expertise to create solutions that support their lives, even if it means restructuring and improving what they do and how they do it. It's about redesigning products and—in the most elegant and profound designs—redesigning lives.
CUE is an innovative, bold step. It represents a practical combination of best-in-class interaction design and technology from computing and telecom and combines it with GM's particular expertise in automotive engineering and design. Time will tell, but I believe it truly is the right next step for them. Kudos to the GM product planners, engineers, designers and management for trusting customer-centered design and for making such a courageous break with the status quo.