WHAT IS CONTEXTUAL DESIGN?
Contextual Design is a customer-centered design process that uses extensive field data as the foundation for understanding users' needs, tasks, intents, and processes in order to design products and systems that meet both users' and business' needs. Learn more about our process.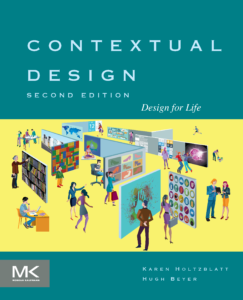 Now available! The new edition of Contextual Design: Design for Life, by Karen Holtzblatt and Hugh Beyer. Learn more and order.
The Contextual Design (CD) process encourages holistic, systemic design — looking at the whole user work and life context and responding with an integrated concept that broadly supports user activities. From visioning through validation, the team takes a product concept and turns it into a detailed design that can guide product specification and rollout planning. With the customer data documented and online, the User Environment Design, and UI specification ready-to-hand, teams can plan their rollout using whatever methodology the parent company prefers.
Whether the next step is to write product requirement documents, functional specifications, Agile user stories or something else, CD delivers a new product concept or version from a deep understanding of the context of the users. CD supports the team with solid design processes that continually immerses them in the world of the user, ensuring they keep that context front and center while they designing and then developing the release.
Our work on The Cool Project showed that as designers, we needed a new way of seeing. We need to recognize and collect new types of user data on core human motives, on wider dimensions of life, and on how the whole of the user's integrated life fits together. In The Cool Project, we articulated this new perspective in seven Cool Concepts, each revealing core human motivations that products must support to be successful today.
THE PROCESS
There are two phases to Contextual Design: In the first, the team immerses itself in the life of the user through field visits and modeling, using the resulting insight to envision new products. In the second, the team refines the details of this new design with user iteration, including architecture, function, content, and UI presentation. Designs created through CD can be used to develop products for new markets, drive product roadmaps, and define technical specifications for specific products. Read about our process in detail.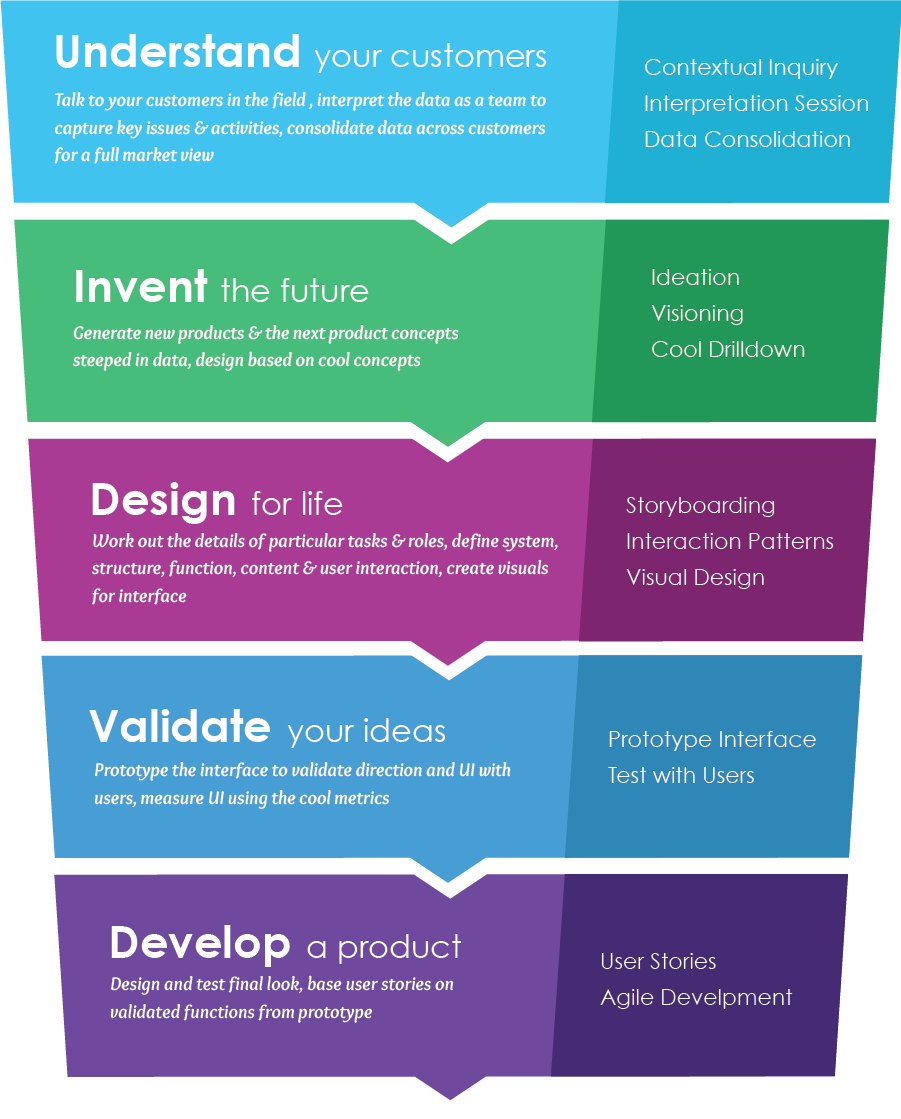 WHAT IT'S LIKE WORKING WITH US
We wrote the book on user-centered design methods and it's used in many universities around the world. We are experts at bringing structured data into an organization and bridging the gap between engineering, design, and data.
We work with you and your team on projects, providing opportunity for your team members to participate as much as their time allows. Training your team can be a key part of our value to you. We don't just go away and return with an answer. Your team participates and provides knowledge and understanding of your business and technology. Together we understand and create a better product.