Conte
xtual Design, 2nd Edition
by Karen Holtzblatt and Hugh Beyer
December 2016
Morgan & Claypool; ISBN 978-0128008942
Contextual Design is used in a wide variety of industries and taught in universities all over the world. Until now the basic Contextual Design (CD) approach has needed little revision. But with the wide adoption of handheld devices, the way technology is integrated into people's lives has fundamentally changed. Contextual Design: Design for Life introduces both the classic CD methods and the new techniques needed to fulfill core human motives while supporting activities.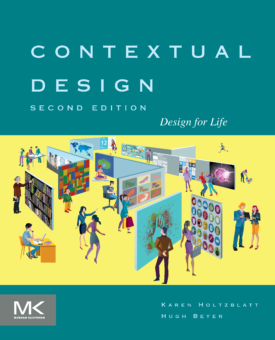 "We've redesigned the method to account for the way that technology has radically changed people's lives since the invention of the touch-screen phones and other always-on, always-connected, and always-carried devices. This book describes the new CD, evolved to help teams design for the way technology now fits into peoples' lives."
— Hugh Beyer & Karen Holtzblatt
This completely updated and revised edition is written in a clear, informal style without excessive jargon — this is the must-have book for any UX design library. It covers consumer and business products, all illustrated with new examples, case studies, and discussion of how to use CD with Agile development and other requirements methods.
In addition to the book — available from Amazon, Barnes and Noble, and directly from the publisher — purchasers get access to online resources like downloadable versions of the Contextual Design work models and experience models. Regardless of where you buy the book, book purchasers can access these Companion Materials from the Elsevier / Morgan Kaufman publisher site.
Words of praise from a few of our clients and industry leaders
At GM, we are committed to putting the customer at the center of everything we do. By better understanding our customers, Contextual Design helps us drive innovation and design for their needs today.
— Mike Hichme
Director, Vehicle User Interface
With customers at the center of what we do, we leverage Contextual Design as one of our core customer insight techniques. For years we've used Contextual Design as a best practice for driving innovation and designing award-winning products for our customers including professionals in the tax, accounting, audit, health, legal, regulatory, government, risk and compliance fields.

—Karen Abramson
Chief Executive Officer Wolters Kluwer Tax & Accounting
Praise for this book and the work? Classics like this don't need praise. This work has played such a critical role for the last decade and more that it stands on its own. It is a classic, defining a method taught all over the world. used all over the world.

—Don Norman
Professor and Director, The University of California, Design Lab,  Author of The Design of Everyday Things: Revised and Expanded Edition
Contextual Design Evolved
by Karen Holtzblatt and Hugh Beyer
October 1, 2014
Morgan & Claypool; ISBN 978-1627055581
In 2013, we overhauled the method to account for the way that technology has radically changed people's lives since the invention of the touchscreen phones and other always-on, always-connected, and always-carried devices. This book describes the new Contextual Design, evolved to help teams design for the way technology now fits into peoples' lives. We briefly describe the steps of the latest version of Contextual Design and show how they create a continual immersion in the world of the user for the purpose of innovative product design.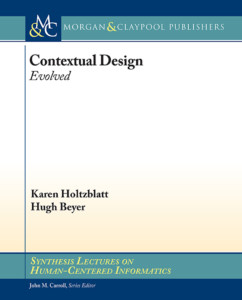 "This book is gold!
Such a great tool for setting up a UX design team framework."
— Amazon Reviewer 
User-Centered Agile Methods
by Hugh Beyer
June 3, 2010
Morgan & Claypool; ISBN: 9781608453726
With the introduction and popularization of Agile methods of software development, existing relationships and working agreements between user experience groups and developers are disrupted. Agile methods introduce new concepts: the Product Owner, the Customer (but not the user), short iterations, User Stories. Where do UX professionals fit in this world? Agile methods also bring a new mind set – no big design, no specifications, minimal planning – which conflict with the needs of UX design. This lecture discusses key elements of Agile for the UX community and describes strategies UX people can use to contribute effectively in an Agile team.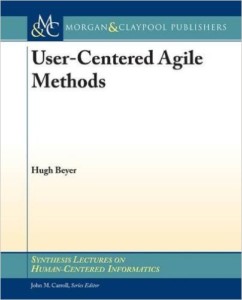 "I'm a UXer who has struggled with working in agile environments for the past 5 years. This book provides an excellent framework for UX Design and Development harmony. Hugh Beyer's book brings some sanity to the process by detailing how the goals and thus the tasks of these two roles are different."
— Amazon Reviewer
Rapid Contextual Design
by Karen Holtzblatt, Jessamyn Burns Wendell, Shelley Wood
December 28, 2004
Morgan Kaufman; ISBN 978-0123540515
Rapid Contextual Design is a hands-on guide for anyone who needs practical guidance on how to use the Contextual Design process and adapt it to tactical projects with tight timelines and resources. Rapid Contextual Design provides detailed suggestions on structuring the project and customer interviews, conducting interviews, and running interpretation sessions. The handbook walks you step-by-step through organizing the data so you can see your key issues, along with visioning new solutions, storyboarding to work out the details, and paper prototype interviewing to iterate the design-all with as little as a two-person team with only a few weeks to spare!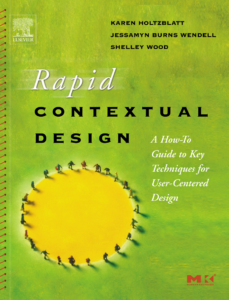 "Here are those little gems of advice that a skilled mentor who peered over your shoulder would tell you. If you lack such a mentor, this book is the next best thing, explaining just what to do in a straightforward, easy-to-read, easy-to-understand manner."
Nielsen Norman Group
Professor, Northwestern University,
Author of Emotional Design
Contextual Design
by Karen Holtzblatt and Hugh Beyer
September 15th, 1997
Morgan Kaufmann Publishers; ISBN: 978-1558604117
This is a practical, hands-on guide for anyone trying to design systems that reflects the way customers want to do their work. The authors developed Contextual Design, the method discussed here, through their work with teams struggling to design products and internal systems. In this book, you'll find the underlying principles of the method and how to apply them to different problems, constraints, and organizational situations.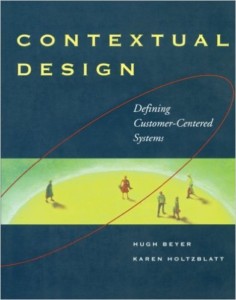 "The foremost experts on contextual inquiry have packed what they know into a book of substance and intelligence. If you care about your customers and want to understand what they need, you need this book."
—
Larry Constantine
Principal Consultant
Constantine & Lockwood, Ltd.
Professor of Computing Sciences
University of Technology
Sydney, Australia