WHAT IS THE WOMEN IN TECH PROJECT?
Why are tech women leaving their jobs mid-career? As more women enter the field, many simply don't stay to break the glass ceiling. When compared to other demanding professions (law, business, medicine) women in tech are more likely to become disheartened. So how do we keep women engaged and successful? The industry has long documented the problem – but we don't really understand what is going on — and what to do.
What if we had a framework to understand what leads to involvement and success? What if we knew the key intervention points that companies should focus on?
HELP WITH THE WORK. IT'S ALL VOLUNTEER!
THE RESEARCH
In 2014, as part of teaching a course at Stanford, Karen started the field research that led to identifying a framework for understanding what workplace factors keep women engaged. To date we've conducted 20 field interviews and constructed a survey with over 300 respondents. The field research focused on women currently in management, engineering, user experience design and research and product management, as well as women who left their jobs.  The field interviews take a 360 look at women's lives. Women told stories of their current team, manager, corporate culture, promotions, family, teamwork, job choice, and speaking out. They recounted getting into the tech field and their influencers from home and school. They shared joy, frustration, values, and the love of creating.
We are continuing the field research and collecting survey data.  Sign up to help!
When we organized the data in an Affinity Diagram we looked for key themes that characterized what women love about work and what gets in their way. We found six core factors that together give us a framework for understanding what is going on for women and perhaps for other underrepresented populations. The key factors highlight aspects of work life and self-confidence. Other factors address attracting women into the field, hiring, and parental leave. We are focused on women's lives as technology workers.
We hope that this framework – and best practice interventions we create together – can help companies improve the work life of everyone in technology.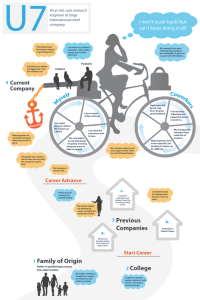 A Dynamic, Valuing Team That's Up to Something Big
Women thrive in a dynamic work-focused team and/or partnerships. They lead and follow, feel valued for their work, make suggestions, and can talk about life. The culture is results-focused, no drama, non-judgmental, and punctuated with a lively exchange of ideas among high-performing, mutually respected people. They know what to do and how to do it. Together they are making or exploring something that matters.
"I expect a culture of value and connection. Without it, I leave."
Work That Matters and Is Right for Me
Women love working on real tangible products important to the company, the industry, or the world. Researchers or managers want similarly high impact and high profile challenges. They won't be bored and switch jobs if they stop learning and being challenged. If the work doesn't match their skills and career goals they may feel unsuccessful, ill used, or under challenged.
"I'm excited about my job when it's a good match to my skills and career goals."
The Push and Support
Women advance when they are pushed into a challenge and are supported to succeed by managers and co-workers. Many women hesitate to ask for a challenge or the next promotion. They may not feel skilled or comfortable with self-promotion. But they rise to the occasion if pushed whether into a work challenge or a promotion. But then they need support from others to plan, strategize, ask questions, and falter.
"Throw me into the ring with support – then I'll be successful and advance."
Local Role Models
Successful women find role models who challenge, support, and coach. Like early influencers — parents, siblings, educators – they are both more experienced and present in daily life. When managers' work activities and home lives look desirable, women may seek advancement. But if management means long hours, gender wars, power struggles, no family life, and not making things, promotion may be avoided.
"If I can't see me living a manager's life, I don't aspire to it."
Non-judgmental Flexibility for Family Commitments
Women with children thrive when their team and managers make it easy to balance home and work. Women worry they will be judged and excluded from challenging work because of home commitments. When managers and work mates strategize and flex to everyone's life demands they create a bond of connection and support. Women know they are needed, pulling their weight, and worth investing in.
"If I'm hiding or feel guilty about my family needs — I won't stay for long."
Unflagging Personal Power
Everyone has self-doubt but women express a lot of it. Women talk about lacking skill, being an impostor, feeling out of step, judged, unclear about how to succeed, and alone among techie geeks who judge, ignore, or treat them as dumb. But with positive feedback, minimal criticism, clear expectations for success, feeling valued and connected, and more women, women gain confidence and personal power.
"Without the plague of self-doubt, I can do great things!"
How can we help you change your organization?
Talks – Workshops – Measure your cultural experience –
Help you generate ideas for change