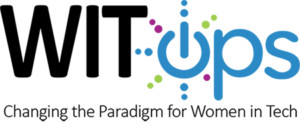 Those of you who have followed Karen's work over the years have watched her work focus change to shifting the paradigm for how companies address retaining women and diverse professionals in technology. Over the last four years, with the help of many volunteers, initiatives have led to developing:
The @Work Experience Framework and Measure that assesses the key elements of work life that need to in place for women to thrive
Career Power, a board game that lets players face and discuss career challenges with fun
Interventions to aid interpersonal interactions, manage conflict, encourage participation, and reduce bullying during work meetings
Research on what is needed in the on-boarding experience
To encourage and further this work, Karen has started WITops, a non-profit (tax-exempt) organization dedicated to developing knowledge and practical techniques to help technology companies engage and retain women and diverse persons.
What is WITops? Classically an op is an operation — a set of planned actions that lead to a particular purpose. WITops is building actionable tested processes, techniques, guidance measures, and educational games or other ways to encourage change and increase success for women at work. At the heart of the work is collaborating and working with volunteers in our industry to make things happen. Donation of time and money can help forward the action.
Check out the evolving WITops site and get involved.