Moving from Discussion to Action: Retaining Women in High Tech
When: February 8, 2017  10:00am Pacific/1:00pm Eastern
How Much: FREE!
Presenter: Karen Holtzblatt
Where: Right here!  Just bookmark and return to this page. (We will send you an email reminder prior to the event.)  This will be a YouTube Live event hosted below and on the InContext Design YouTube channel.
Topic: Karen will introduce the Women in High Tech Retention Project, and then share the key factors for retention, interventions, and exercises you can try.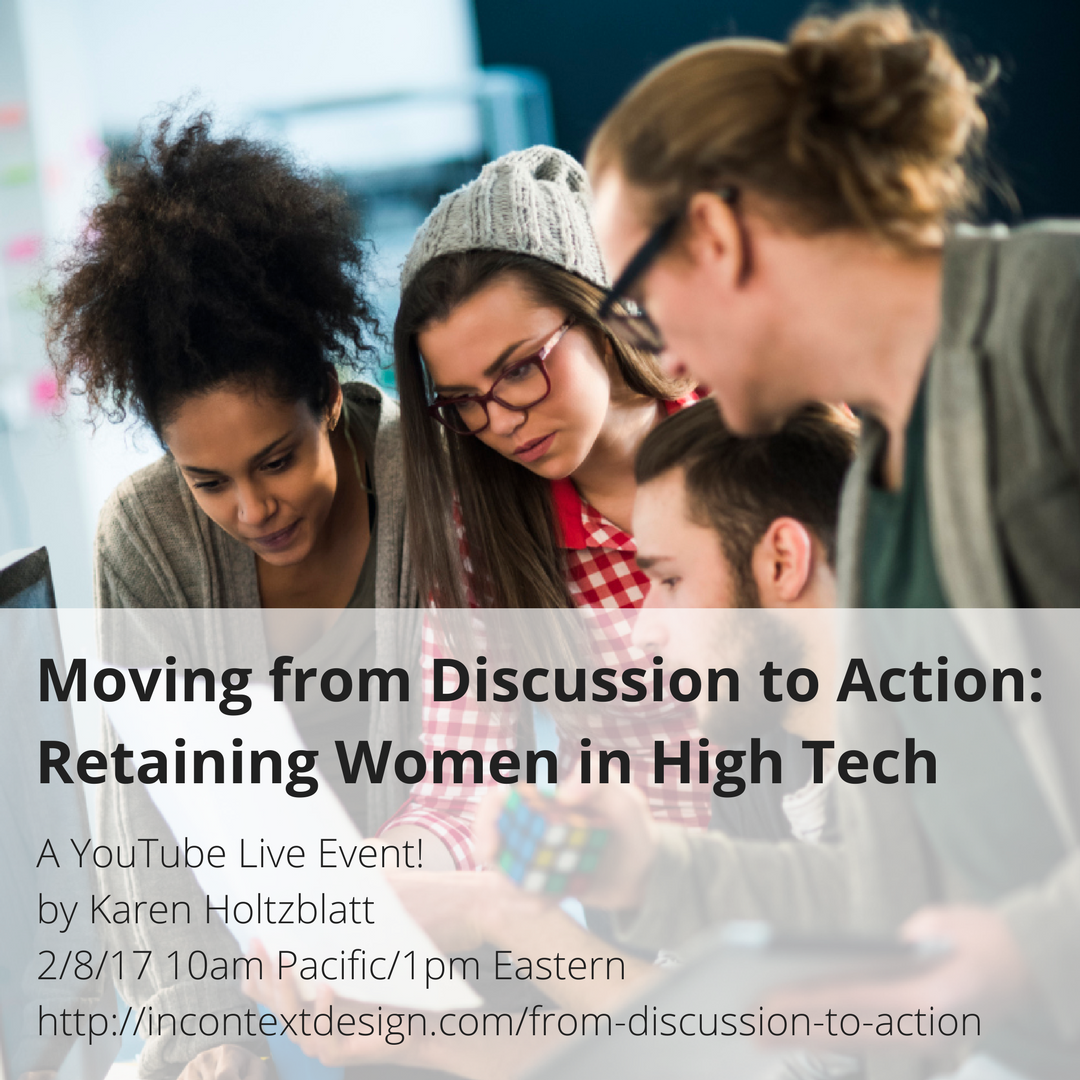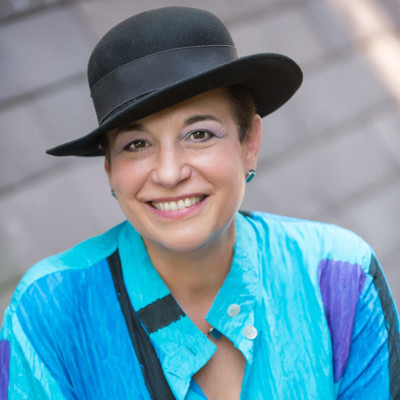 Karen Holtzblatt is the visionary behind InContext's unique user-centered design approach, Contextual Design. Karen's combination of technological and psychological expertise provides the creative framework for developing innovative designs and design processes.
Recognized as a leader in requirements and design, Karen has pioneered transformative ideas and design approaches throughout her career. Most recently, Karen initiated the Cool Project to explore users' experience of cool products. Her latest book, Contextual Design: Design for Life, is a complete update of the classic Contextual Design book used in universities and organizations worldwide. The book, co-authored with Contextual Design's co-creator Hugh Beyer, incorporates the Cool Concepts into Contextual Design, as well as the new Contextual Design Experience Models and ideation techniques inspired by the Cool Concepts.
Karen introduced Contextual Inquiry, now the industry standard for gathering field data to understand how technology impacts the way people work. Contextual Inquiry and the design processes based on it created a revolutionary approach for designing products and systems based on a deep understanding of the user's world. Contextual Inquiry forms the base of Contextual Design, InContext's full customer-centered design process.
As a member of ACM SIGCHI (The Association of Computing Machinery's Special Interest Group on Computer-Human Interaction) Karen was awarded membership to the CHI Academy a gathering of significant contributors and received the first Lifetime Award for Practice for her impact on the field.
Karen co-founded InContext Design in 1992 with Hugh Beyer to use Contextual Design techniques to coach product teams and deliver market data and design solutions to businesses across scores of industries in many countries.
Karen has now launched The Women in Tech Project to understand the work experience of women working for technology companies in an effort to understand why women are leaving the field. While teaching at Stanford University, she developed a framework defining the core factors that influence women's joy and satisfaction at work. Karen is currently expanding the research and designing interventions for companies in order to address the rampant problem of women leaving high tech.
Karen is also an Adjunct Research Scientist at the University of Maryland's iSchool (College of Information Studies). At UMD she is collaborating with professors and students and working on The Women in Technology Project.
In addition to being a noted conference speaker, Karen has more than 25 years of teaching experience professionally and in university settings. She holds a doctorate in applied psychology from the University of Toronto.