Hi Everyone,
As we head into Fall, I want to share my current activities: spearheading work on retaining women in high-tech, supporting universities who want to develop stronger programs in HCI including Contextual Design, and of course responding to clients interested in bringing CD into their organizations and to use the techniques outlined in the new book.
If you are concerned about retaining women in tech companies, I now have talks and workshops you may be interested in. And if you are in the DC area we are looking for people and companies to help test our Career Power board game (see below). We are running a new version of our survey in the US and overseas in the next few weeks — this time including men for a comparison. I'm excited about extending this work worldwide — look for that survey link when it is ready. Finally, our onboarding research study is starting this Fall. We will be conducting interviews with early-career tech women and men about their first job and how well their college prepared them (let us interview you). We hope to have recommendations for universities, HR, and companies. So, there are lots of ways for you to be involved!
And like many of you, I've spent time thinking about the situation at Google. My latest blog takes a step back to ask questions about how we might respond taking lessons learned from Contextual Design and our work on WIT.
Blog: What if I Had James Damore on a Team?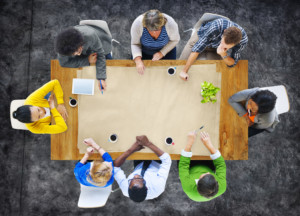 You might not recognize the name, but you've certainly heard about him. James Damore is the 28-year old Google developer who wrote a long treatise in which he claimed that Google was an echo chamber of liberal ideas and that hiring women who aren't good enough at coding, hurts Google's mission. When many people asked me to respond, I thought about a hypothetical: "What If I had James Damore of Google on a team?" This blog is my answer, including techniques I've used in the past.
 Be a Pilot Tester: Career Power Board Game
Central to the Women in Tech Project is creating interventions to address what we've uncovered from the field interviews and quantitative research. Using the research and principles from games for good, my students at University of Maryland helped create our Career Power board game. Intrigued? Help us test it at our next research game night! Or, invite us to your company to do it in-house!
Who: UXers, product managers, developers, designers, and managers preferably between the ages of 22 and 45. A new hire in your group would be great too.
What: Pizza & soda at 6:30pm, followed by game play at 7pm.
When: September 26 or October 16.. 6:30-9:00pm
Where: HCI Lab, University of Maryland, College Park, MD
How: Email me (karen@incontextdesign.com) with your job role and any questions.
If you have a group of four or more and are in the greater DC area, we can come to your company too. Send me an email to discuss.
Can We Interview You? Understanding the Experiences of Early Career Technology Professionals
The Women in Tech project has entered into the next phase of field research exploring the early career experiences of women and men in their first high tech job after college. To do that, we're interviewing developers, engineers, technical product managers, and UX and HCI professionals in high tech companies who are 9-18 months into their first job after college.
If that's you (or you know someone) we'd love to interview you. The first step is a 2-3 minute questionnaire.
We hope to do a panel or some other event at CHI this year exploring best practices in educating UX professionals for success at work, including a discussion of how to bring awareness of diversity into the education for each job type. This has been the focus of my work with University of Maryland and other universities. As educators and as change makers in our companies, we must look beyond simple skill training and towards teach soft skills and professional collaboration at school and work. I see this as central to addressing issues of diverse teams.
GEWINN Conference on Gender & IT: My Keynote Presentation and Call for Papers (remote delivery option)
I'm looking forward to being the keynote speaker at the GEWINN conference in Heilbronn, Germany (March 14-15, 2018). GEWINN centers on interdisciplinary knowledge regarding gender and IT and is part of the research project on Interdisciplinary Knowledge regarding Gender and IT. I hope to see this conference and others like it grow as we who work in the industry take up the challenge of impacting the

workplace so that women and other underrepresented populations thrive.
Researchers from all over the world will be presenting their work to further the understand and develop possibilities of action to promote gender equality in IT. You can present too — the call for papers is open until October 31. Presenting remotely is an option. For more information, go to the conference website.
Best,
K
Karen Holtzblatt
InContext Design
facebook /kholtzblatt
twitter @kholtzblatt
linkedin karenholtzblatt